27./28.05.2004 (Updates)
Beside mentioning that even on Malta you can meet nice Awardmasters (!!!) and have wonderful smalltalks with them we really should plan a holiday on that island more often esp. if the return is sweetened in this special way: We proudly are able now to present four new awards that we received in the meantime (see awards page 7) and which we appreciate very much!

Ivana gifted us with her Weltenbummlerin-Award and Sarah with the Jaded Heart Award. Peter gave us a big joy with his spontaneous given "Best of the web"-Meisterwappenaward. What we really couldn't expect is our third World's Top Award - and with the highest possible rating:
Within the last 4 years the "Dandie Golden Star" has been given four times - and speechlessly we now could receive one of them. This is the best way to survive the "afterglow" of British Art Of Cooking and the last days storms on Malta...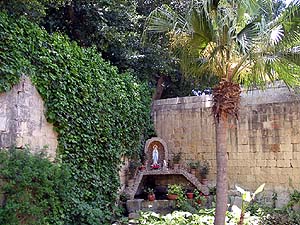 Oh no, it REALLY wasn't that bad...San Anton Gardens, Attard, Malta
Déjà Vue: Just "ready" with this update - the above said is now surprisingly supported...
no no no - this is not a kind of a "Running Gag" - we're really happy that Sylvie and Uwe also have decided to give their UWEKO Award to this page!
From the U.S.A. we receive the NWESS Award and last not least Isabella surprises us with her "Diagonal Classic Award". Thank you all very much!

And to avoid somebody could think that we're now going megalomanic ;-) we are planning to publish the list of all our unsuccessful applies to award programs sometimes - also for giving a satisfying answer to "Spipsnap's" (???) related question in our guestbook. By the way, Snipsnap: Our page is fully functional with Opera (since many months). Tested - ok !

We are sad that DorisG with the 24th of May has closed her World's Top Award program "Visions High End" - not only because we are proud winners of this award...