01.05.2004 (Update)
Yesterday we couldn't even think about "Dancing into May" - an "accident" of the long awaited Naomi has made it really clear how sensible and in the strongest sense of the word "breakable" the love for collecting "porcelain" dolls is: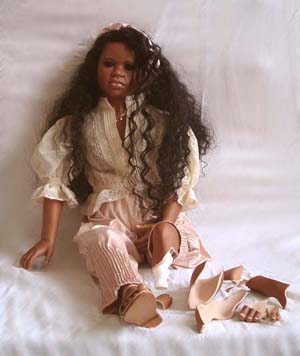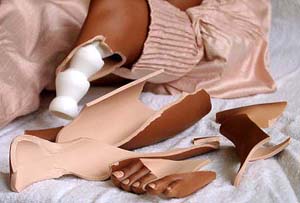 This (!) is really not what this wonderful (!!!) child has deserved - and the staying in the U.S.A. clinic will last a lot of months...

We hope that Steve's wish in his nice laudatio for his Blue Crystal Award (that he has given today to this site) will come to reality:
(Translated) "I am wishing you all the love for the future and fun to continue with collecting so that we may go on applauding to lots of your collected objects."
Thanx, Steve, for the award and your words. You really couldn't know how necessary that sort of support can be after such a desaster...

For all visitors who want to take a look INSIDE my doll house, a virtual presentation of some of my dolls now can be found under the menu point "Infos and Tips".