02.04.2004 (Update)
We're really speechless:
The exquisite webring "LayDeSign" has invited us to join! And since two days we're proud members. Thank you very much ! We will work hard to satisfy the high purposes of this association, to offer the best guest-friendship to those who might come here for a lucky break guided by the webring links - and we (hopefully) will entertain them.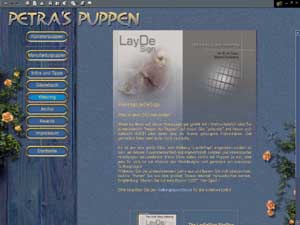 News are in sight, because yesterday Maja Bill's beautiful "Norbu" has finished her long travel over the big ocean and now she's just making herself comfortable with her "sisters" which she has missed for a long time. Now the right styling, Petra's "cold" survived, good weather for the photoshooting and soon she will be a new beauty spot in the artist dolls section.

She really didn't want to send us an April-fools-day-joke, that awardmistress who has attached a site-screenshot at her laudatio mail for our last recieved award - and not the award graphic itsself ;o) No problem - now everything is "in butter" as we use to say here (thanx a lot!), the award is now "where it should be" and makes the i-point to the successful last days.