20./21./22.03.2004 (About 12 Updates !)
Spring cleaning !
Here is what that means: We have plastered most of our walls and now we are happy about our freshly painted dolls house (ok - to tell the truth - we couldn't finish everything...but YOU won't realize it - and sometimes even we need some sleep and something to eat...)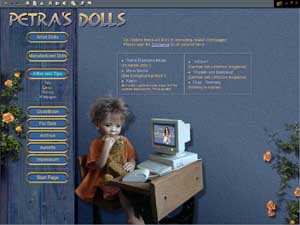 The primary reason for all our investigations is that we have realized how many of our visitors (esp. overseas guests!) are still surfing with a smaller resolution of 800 x 600 pixels. And for these 20 percent of our guests we immediately HAD to do something:
All (183 !!!) big doll pictures are now a little bit smaller, the info text now stands beside and so it's readable for everybody. Hundreds of files were newly programmed: pictures, slidehows and other info- and laudationes windows now "jump" into the center of the screen. We still work on the purpose to replace fixed tables with "dynamic" ones within all select pages. They then will scroll automatically into the viewable area in smaller resolutions. Burst with laughter, oh you allmighty awardwebmasters - we pay for all our beginners mistakes. Therefor we had to sacrifice some of our beloved background pictures but as we believe our new ones are also stunning. One more for the awardscene: One or another vertical (!!!) scrollbar is not avoidable using dynamic tables - otherwise f.e. a big part of the archive door, which is no longer a background picture would be cut off. We believe you can live with that. Primary all these major adjustments are done for the above mentioned visitors.

After this sacrificed weekend we are very, very happy about two new important awards we have been given. Thanx a lot, folks - you've been saving our lifes...