15.10.2005 (Update)
The dolls collectors have got a small, but beautiful new target site in the Internet starting today: Monika Levenigs brand-new homepage is online (also in English !) and a visit (look at "Links") is "a must" - and NOT ONLY because I've allowed Monika to borrow my graphics artist Tom (But he's just borrowed, ok !?! :-) )!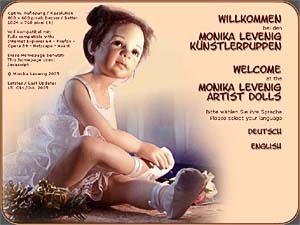 Note - September 15, 2010
After a lot of thinking Tom has removed the links because due to an unprofessional third-party "work" that page unfortunately does no longer suit to his quality standards at the time of his creation of the page. Sorry, Monika...